Downloading Reports for Printing and/or Saving
Confirmed Municipal Assessment Total reports can be downloaded for printing, or for saving a digital copy of the information. It is not recommended that the reports be printed using the web browser print function. The preferred method is to download the .pdf export file and then print.
After creating the desired report by using the search function above, follow these instructions to download the .pdf export file:
1. Select the "download" icon - see the following example: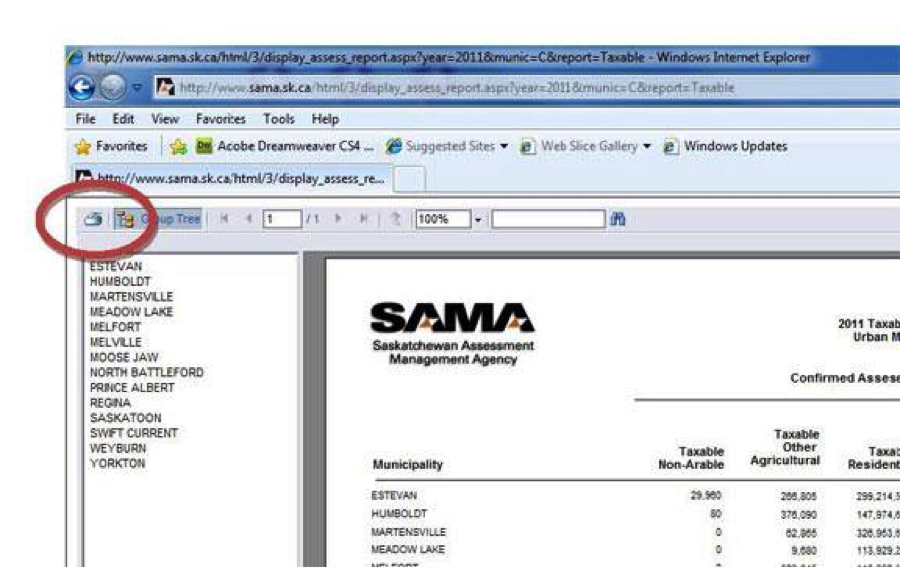 2. Print to PDF - choose a page range, and select "Export". Please note that, if your web browser's pop-up blocker has been enabled, choose to allow "download file" (it may be necessary to repeat steps 1 and 2, depending on the web browser).
3. File download - select "open" or "save" the export file. This will generate a .pdf version of the report that can be printed.
For problems downloading the report, or if the report is required in another format other than .pdf, please contact Quality Assurance Division at 1-800-667-7262, or email us at roll.confn@sama.sk.ca.